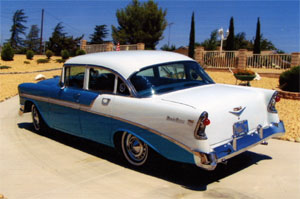 EDWARD KLEINLEIN | HESPERIA, CA
When our son Eric was old enough to drive, we promised him a used car to drive to High School. Eric found a 1956 Chevrolet Bel Air at a used car dealer. It was about 50% restored and something my wife and I could afford at the time. Eric drove the car through High School, then he married and his wife drove the car to her work at a supermarket.
1956 Chevy Bel AirOne night, twelve years ago, the car was hot-wired and stolen. We received a notice from the highway patrol about a week later that the car was found abandoned on the freeway about 100 miles away. Whoever stole the car obviously wasn't familiar with the old cars and where you put gas in. Eric had a toolbox and five gallons of gas and the trunk had been entered through the rear seat. The toolbox was missing and the gas can still there full of gas. At the time, Eric had no insurance on the car (for theft) because his wife only drove a few miles to work.
Soon after this theft, the original engine failed after 230,000 miles. So Eric gave the car to me and I finished the restoration, including a new 350 CI engine. The car has been in our family for 25 years now and needless to say, is fully insured.