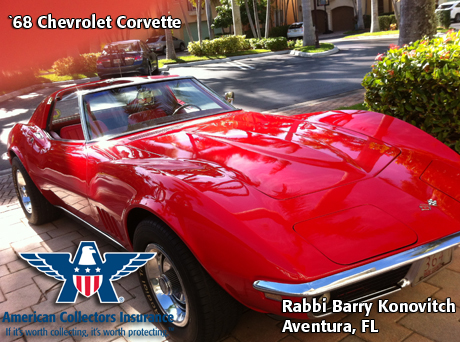 RABBI BARRY KONOVITCH | AVENTURA, FL
From the moment I first saw that new 1968 Corvette I knew I had to have it. Fortunately my Dad had a friend who was a Chevy dealer in Yonkers and happened to have a red T-top on his showroom floor. It had been ordered for his wife but she changed her mind in favor of a diamond necklace.
At first I hesitated to park it in front of my office. Truth be told, I was a bit embarrassed. After all, I was the associate Rabbi at one of the largest congregations in New York. It wouldn't do to have 2,000 tongues wagging. And what would my senior Rabbi say! So for a week I parked around the corner until I was "outed" by one of my parishioners.
Most of my congregants thought it rather cool. After all, how many hip Rabbis are there across the country who drove red Corvettes. Forty-five years later they still ask me about the "little red car."
Corvettes are built to run, so in the summer of 1968 Aileen and I drove north to Canada, destination the Maritime provinces and the top of Nova Scotia, the beautiful Cabot Trail.
It is difficult to maintain the posted speed limit in a brand new Corvette with a 350-horse, 327 cubic inch power plant. So when we crossed the international border, I noticed that the speed limit was posted in kilometers per hour. Math was never my strong suit so I just estimated the proper speed conversion and I hoped that the province police would understand.
Suddenly I noticed a Canadian Mounted Police car quickly closing the distance. Soon he was only several car lengths behind me. And there he stayed, mile after mile until we crossed into the next town. Obviously I was very careful to maintain a respectable speed but he continued to follow me as if he were attached by a cord to my rear bumper (which incidentally was still chrome in those years). As we slowed for the town, he put on his flashers and signaled me to pull over. Now I was really concerned. He got out of his car and motioned for me to join him. To my amazement he said "I haven't seen the new Corvette in Canada. Yours is the first one and I couldn't help but taking a good look. I hope you don't mind."
I was relieved to learn that I wasn't about to be hauled before a Canadian judge so I immediately popped the hood, gave him a tour of the car and let him sit in the driver's seat. Soon he was on his way and we were left to catch our breath.
Our trip continued uneventfully all the way to Nova Scotia where we watched the first moon landing thanks to a friendly Nova Scotian whose roof antenna proclaimed that he had the only TV set on the beach at Ingonish.
On the way home we bought an old copper ship's lanterns in Halifax which traveled home under Aileen's feet in the front seat. Most of the rear area was filled with a set of Wedgewood dinnerware, a gift from our Canadian relatives in New Brunswick.
When you drive a 'Vette, luggage space is the least of your concerns. What counts is the thrill of cruising the open road in the greatest sports car ever built in the U.S.A.