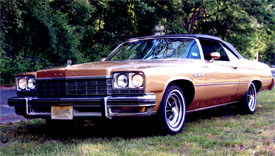 ALAN FISHER | CHERRY HILL, NJ
This is my 1975 Buick LeSabre convertible that I purchased in July of 1994 from the Goodyear tire store on Route 73 in Palmyra, New Jersey. It was in very sad shape and on top of it my wife thought I lost it all together. I always wanted a convertible and this was going to be the car for me. Yep, I just turned 40 and needed another toy.
1975 LeSabreWell 11 years later and a lot of money, this is almost the end result. I still need to finish a few more things on it. The parts came from all over the country. The big cars can be very hard to find in junkyards and it made getting parts a bit harder. I even drove out of Woburn Massachusetts to a new car dealer that actually had a new hood in stock. The interior was replaced and the bodywork was extensive. I also had to replace the engine and have the transmission rebuilt. My wife and I enjoy cruising in it and going to car shows. It is not longer my car, it is OURS. Isn't that amazing? She also is the one that financed it. Thank You Dear.