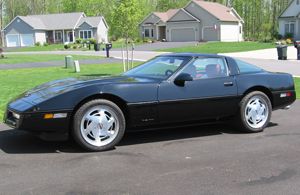 ANTHONY (TONY) PONZIO | THENDARA, NY
Tony has wanted a Corvette ever since he had a rear-end collision in 1967 which totaled his 1963 Corvette. We were dating at the time and even though the accident was not his fault, he could not afford to fix it. We got married in 1968, had a family, sent them to college, had grandchildren, etc. Finally, 42 years later, Tony found a mint condition Corvette he could afford.
Tony purchased the car from Greg, who owned the car for four years and was going through a divorce. Greg purchased it from the original owner, Terry P. When Greg went to go look at the car, he spent three hours talking to Terry. Terry was recently retired, but was dying of cancer. Greg said Terry was meticulous and owned a pole barn in Canastota to house his John Deere memorabilia and his black Corvette. Terry called him back to say another person was interested in it, but he wanted Greg to buy it. Greg thought his wife might enjoy riding in the Corvette instead of on his Harley, so he purchased it. Greg called the car "TP" after Terry.
When we met Greg, we hit it off with him and shared our story also. Tony's initials are TP (his friends used to call him TP years ago). Tony also got cancer after retirement, but had successful surgery in 2008 and is a cancer survivor. We both felt connected to the previous owners, especially Terry. It is as if Tony could carry on where Terry left off and Greg was our steward.
We ordered personal plates "TP 1989" to commemorate Terry and Tony.