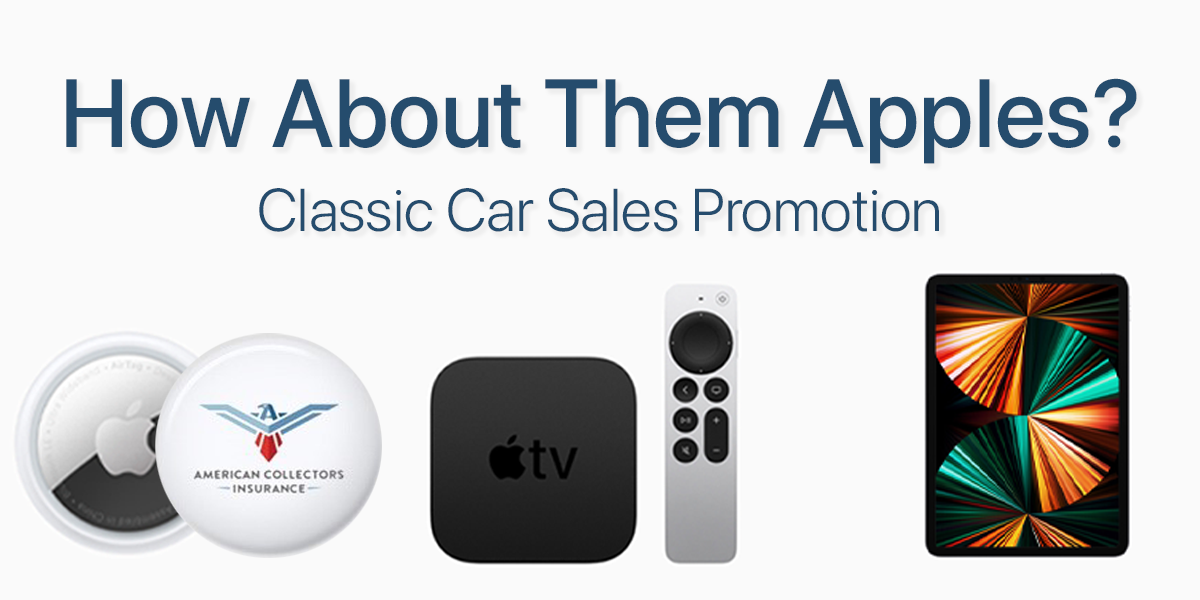 The new Apple AirTag is a tracker fob to help you find your lost, missing or misplaced items. Our "How about them Apples?" Classic Car Sales promotion (Jun 1 – Sept 30) will to help you re-discover the joy of placing business with American Collectors Insurance… the best kept secret in Collector Car Insurance.
MONTHLY PRIZES:

Eligible Policies: New Classic Car insurance policies (new business/book roll policies from insurers excluding Heacock Classic and Condon Skelly) written during contest period.
How to Qualify: For every 12 new Collector car policies written in each contest month, you will earn one branded Apple AirTag™ (or Tile Mate™ Tracker if desired, e.g., Android phone users).
Maximum Monthly Prize Limit: Up to 4 AirTags/Tile Mate trackers can be earned in each contest month.
Raffle Entries: For entrants exceeding the threshold qualifier (12 new business policies/month), you will receive one raffle ticket entry for each additional new business policy written. (e.g., 13 NB = 1 raffle entry, 14 NB = 2 entries, 15 NB = 3 entries, etc.)
END OF CONTEST RAFFLE: Apple Sweepstakes Prize Drawing
Raffle Prize Drawing: will be held at the end of the contest period.
Raffle Prizes List: New iMac (1), iPad Pro (1), AirPods Max (1), AirPods Pro (1), AppleTV 4K (1), AirTags 4-pack (1), HomePod Mini (1)
Odds of Winning: Your odds of winning increases by earning more raffle entries through higher NB production.
CONTEST RULES:

Contest entrants must be registered prior to the start of the contest month.
Only one entrant can register under each Agency Producer Number. If multiple users attempt to register under the same producer number, the Agency's principal will decide which entrant will represent the producer number in the promotion.
Click HERE to download a pdf of the official contest rules and prizes.