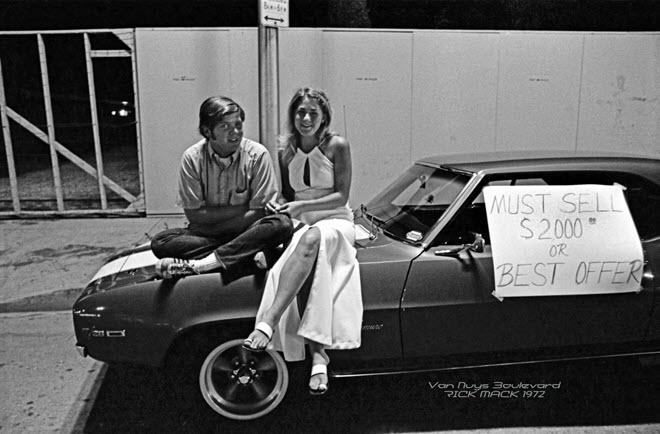 Over the years, we've seen our share of new collectors get duped when buying a new classic car. Although we're big fans of buying classics from the secondary market, you've got to be on the lookout for common warning signs and red flags that might hint toward long-term issues.
If you're a first-time classic car buyer, read up on the various all-too-common rookie buying mistakes that can cost you thousands of dollars. In this post, we've put together a simple classic car buying guide to help you get better educated when you're buying a classic car.
1. Not Doing Your Homework
Unfortunately, many first-timers buying collector cars purchase a classic car without doing any research about the make or model. Before you meet the seller or take the car on a test drive, it is important to do some independent research on whether the model for that specific year was known to have significant mechanical issues.
Start your research process by searching online for reviews from genuine owners of the make and model you're considering. Then, ask any classic car collectors you know, as well as your mechanic, whether the car has any common issues that might come back to haunt you later.
Before you fall in love with a particular car, you should also get a sense of the values that similar vehicles sold for by looking at several reputable sources. Remember, all collector cars are not restored the same; you should be aware of the range of values that your particular dream car's year, make, and model have sold for to reduce the chance of overpaying.
2. Not Following Your Passion
As a first-time buyer, you should follow your passion and buy a car that you care about, and not one only because you think it will appreciate in value. In almost all cases, buying a classic car entails quite a bit of time, energy, effort and money. Collecting classic cars is a labor of love; you may need to invest additional time and money after your initial purchase. If you aren't passionate about the particular make/model you purchase, you might end up resenting it. To prevent that, buy a car that you will truly enjoy.
3. Not Getting a Professional Inspection
One of the least-followed classic car buying secrets is that you need to get a pre-purchase "road-ready" inspection before buying a used vehicle. Even if you're an expert or a mechanic, it never hurts to get a second opinion from a trusted professional. If you're considering whether to buy a used car, take the vehicle into a service center or order a vehicle inspection to have it checked for structural damage or signs of wear and tear. Several pre-purchase inspection companies include , AAG Auto Appraisal Group, or FossilCars. Classic Car Network, AAG Auto Appraisal Group, or FossilCars.
4. Not Researching Upkeep Costs
Some classic cars involve a lot of legwork to keep them roadworthy and insured. You may have heard of a classic car buyer who purchased a vehicle for $10,000 25 years ago and ended up selling it for $40,000. What these collectors don't often share is that they sometimes spend tens of thousands of dollars on upkeep costs, mechanical maintenance, or drive replacements.
To find out more about what a classic car costs to maintain, research local classic car clubs in your area. Reach out to their membership to see whether they're familiar with the particular make and model. Other collectors with first-hand experience with the car model should be able to give you a fairly accurate estimate of upkeep costs.
5. Not Finding a Mechanic Before Buying
Not every mechanic is qualified to work on a rare or classic car. Before you decide to buy a vehicle, contact your local garage and ask them whether they have experience working on the car in question. If they don't, then you should look elsewhere to find a seasoned, "old school" mechanic who knows how to repair and maintain older cars. Beware, however, that these specialist mechanics may charge higher rates than your local shop.
6. Not Checking the VIN
Look under the hood for the vehicle's identification number (VIN), which is often directly stamped onto the engine. In some cases, the VIN is stamped on the exterior of the dashboard and it is visible from outside. The engine VIN ranges between 5 and 17 characters in length. Once you've located the VIN, look up the other known locations for the VIN within the vehicle. If the VINs do not match, then you can bet that the engine has been replaced.
7. Not Having the Right Insurance Coverage
A classic car buyers guide wouldn't be complete without mentioning insurance. Although insuring a collector vehicle though a specialty insurance provider can cost significantly less than through a traditional auto insurer, certain antique cars and rare/exotic collector vehicles can be more expensive to insure than other types. Before you purchase the car, research collector car insurance rates for the model that you're interested in. A variety of factors, including the vehicle type, year, and the Agreed Value policy limit you select influence what a collector pays for insurance premiums.
There are many options available to you if you're looking for classic car insurance. Don't settle for an expensive policy because it was the first quote given to you. Shop around and do your homework before purchasing an Agreed Value policy.
Buying a classic car is a labor of love. Although it takes a little bit of legwork to do it right, it's absolutely worth the investment because the last thing we want to do as a first-time buyer is accidentally pick up a lemon. Instead, follow these basic steps to protect yourself from a collector car purchase gone wrong.
Do you have any classic car buying tips? Share your experiences with your fellow classic car collectors in the comments section below and be sure to share this article so that they can also avoid costly mistakes!