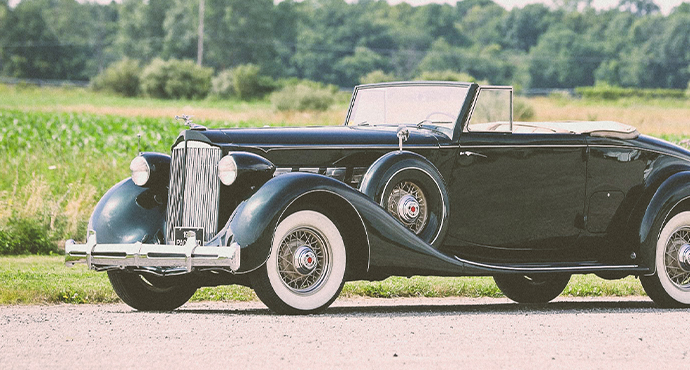 There's more than just age that separates a classic car from an antique. With all the terminology and jargon we've seen thrown around by experienced and beginner collectors alike, it's important to know the key differences between each type of car.
We've been working with collector vehicles for over 40 years and have often heard from confused owners, which is why we had our experts put together a handful of the most important distinctions between vintages and classics, as well as classics and antique car classifications.
What Are the Differences Between a Classic and an Antique Car?
While a lot of people tend to use these two terms interchangeably when describing collector cars, there are some agreed-upon criteria for what makes a vehicle "classic" or "antique":
Model Year/Age: Generally speaking, antique cars are 45 years or older while classic cars are 20 years or older.
Historic Status: Certain states have specific designations for antique vehicles, deeming them "historic" as opposed to comparatively newer classic cars.
Vintage vs. Classic vs. Antique Cars
To make things even more complicated, there's a third classification: vintage cars. If you're wondering "what is a vintage car," it is the oldest of the three categories. Below, we've listed all three and their generally agreed-upon age standards:
Vintage Car: Manufactured between 1919 and 1930
Antique Car: Manufactured 1975 or earlier (>45 years old)
Classic Car: Manufactured 1990 or earlier (>20 years old)
Price
Price alone isn't a criterion for determining a classic vs. an antique car, but it can indicate how valuable and desirable a collector vehicle is. A collector car's sale price is determined by the make and model's rarity, desirability/demand by consumers, its condition, quality of restoration, and mileage.
For example, a 1924 Chrysler Model B-70, which doesn't get much time on the road these days, sold for $27,000 at auction while a mid-80s Honda CRX can go for as low as $4,500 according to Road and Track
Historic Status
US states have varied and specific"historical designations for vehicles at least 25 years of age. Vehicles that meet individual states' criteria will have terms like "Antique" or "Historic Vehicle" printed on their license plates, under or adjacent to their license plate numbers.
Insurance Coverage for Antique, Vintage and Classic Vehicles
Collector car insurance varies between antique, vintage, and classic vehicles. Coverage is also going to differ for classic and antique trucks, imported cars, exotic cars, custom vehicles and hot rods. Even if your collector car doesn't have an official historical designation, the good news is that you can still qualify for Agreed Value insurance and lower premiums.
Classic, antique, and vintage car insurance benefit from Agreed Value policies, which allows you to determine what value you want on your vehicle, and ensures that you will receive the full insured value of the vehicle (less any applicable deductible) in the event of a covered total loss.
Since collector cars aren't on the road as much as regular use cars, the insurance premiums can be up to 40% lower than daily driver policies insured with traditional auto insurance.
Insuring Your Classic, Vintage, or Antique
No matter how we refer to our collector cars, they're still our life's passion. What you decide to call it doesn't make much of a difference. What matters most is that you protect it with comprehensive auto insurance. At American Collectors Insurance, we offer a variety of policies with agreed-upon value, zero deductible, and you can get a free quote in minutes.
What Type of Vehicle Do You Own?
Did this article differ from how you normally refer to your collector car? These definitions are often debated and can be fluid from collector to collector, so we'd love to hear your viewpoints in the comments below. And be sure to share it with your fellow collectors to get their opinion too!