Sponsored Post Contributed by NewOldCars.com, a car finding blog and classifieds.
"Industry Insights" is a new web series from American Collectors Insurance in conjunction with Andre Clemente, founder of NewOldCars.com. We look forward to sharing Collector related insights, vehicle spotlights, buying tips, & much more. Enjoy!
As someone who hunts for cars on a daily basis, every now and then I come across a listing that looks so good, I just can't stop thinking about it. The lure only grows when the car in question is uncommon and underappreciated in the car community.
I'm talking about this 1997 Lotus Esprit V8. With reasonable miles and a $33k price tag, it's within the reach of your average enthusiast. Yet, this is a sports car you rarely ever hear about anymore. Well, I'm here to tell you that the Esprit V8 is one of the best kept secrets out there.
For one, that quintessential wedge shape just oozes 90's supercar. It's one of the last vehicles you could buy with pop-up headlights, and the tail lights were borrowed straight from the Toyota Corolla AE86.
And just look at that stance…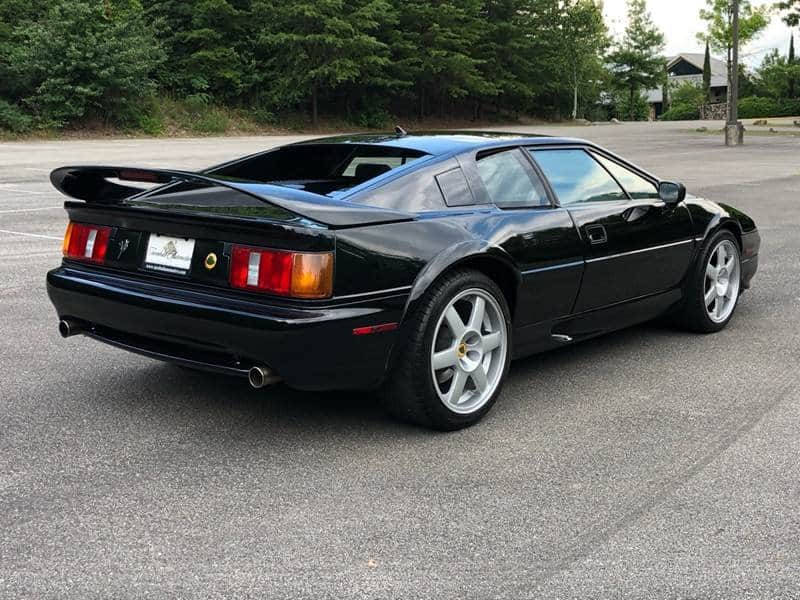 If you're thinking "well, yeah, but these cars must be horrendously unreliable" – your assumptions are misguided. Sure, every Lotus built before this car hasn't exactly earned a stellar reputation in dependability (even the prior 4 cylinder Esprit, which the V8 model replaced, can be a nightmare to maintain). But the Esprit V8, while no Toyota Camry, is in a league of its own.
And it's all thanks to the original Corvette ZR-1.
You see, this isn't the first quad-cam V8 Lotus has built.
Just a few years prior, Lotus helped GM design and build the legendary quad-cam LT5 for the Corvette ZR-1
Lotus taught Chevrolet a lot about motorsport-grade overhead camshaft technology – quite necessary considering Chevrolet's deep roots in the pushrod V8. But there were important takeaways for Lotus as well – such as first-hand experience with Chevrolet's intense engine life and durability testing.
Never before had Lotus put an engine through 500 hours of dynamometer testing at WOT (!) – which is exactly what they did with Chevrolet for the LT5. In fact, it was mandatory that the LT5 meet all the strict reliability requirements of not just Chevrolet, but of Corvette buyers as well. Considering that Corvette has relied on the good 'ol small-block V8 for 35 years, there is a certain level of dependability that Corvette owners expect – and this new LT5 could not disappoint.
Thankfully, it surpassed all expectations. The LT5 proved its durability right out of the box, setting multiple land speed and endurance records, such as the 175.885 mph 24-hour endurance record. There was even a 100k mile club formed by enthusiasts, as enough cars were surpassing the 6 digit mark to earn the recognition.
Naturally, Lotus took everything they learned from the ZR-1's development and applied it to their all-new V8 engine in the Esprit. For example, to match the LT5's durability, Lotus chose to run cast iron cylinder liners in their aluminum block (instead of going "sleeveless" like the Italians were doing with their aluminum engines). Lotus also insisted on 4 bolt main caps (cross bolt), forged steel connecting rods, and a forged steel flat plane crankshaft.
Another takeaway from the ZR-1 project was the importance of keeping things simple. The complex, highly advanced LT5 proved to be a massive development headache (despite how awesome it was), so Lotus decided to take the opposite approach for their own V8. John Owen, Esprit project manager, insisted the V8 be made up of no more than 250 different parts (an engine of this caliber usually consists of around 400 part numbers). Owen also insisted that there be no more than one inch of unused cubic space anywhere in the engine.
The resulting powerplant was so compact that it could fit neatly within the same engine bay space as the old 2.2L 4 cylinder, plus room for two turbos. In fact, the capacity of the adjacent cargo area actually increased with the V8 model. To top it off, it weighed only 15% more than the previous 4 cylinder while producing 50 more horsepower!
The end result was a high strung, quad-cam V8 with a flat plane crank that screams to 7400 RPM – with twin turbos! Speaking of which, the crude turbocharger setup produces some of the most violent pops and bangs ever emitted from a production street car.
With a total of 350 ponies under the hood, the V8 Esprit can propel itself to 60 MPH in 4.4 sec all the way to 180 MPH, which, coincidentally, matches that of the ZR-1. In fact, Lotus claims this engine was capable of 525 hp in GT1 race configuration!
What. A. Car.