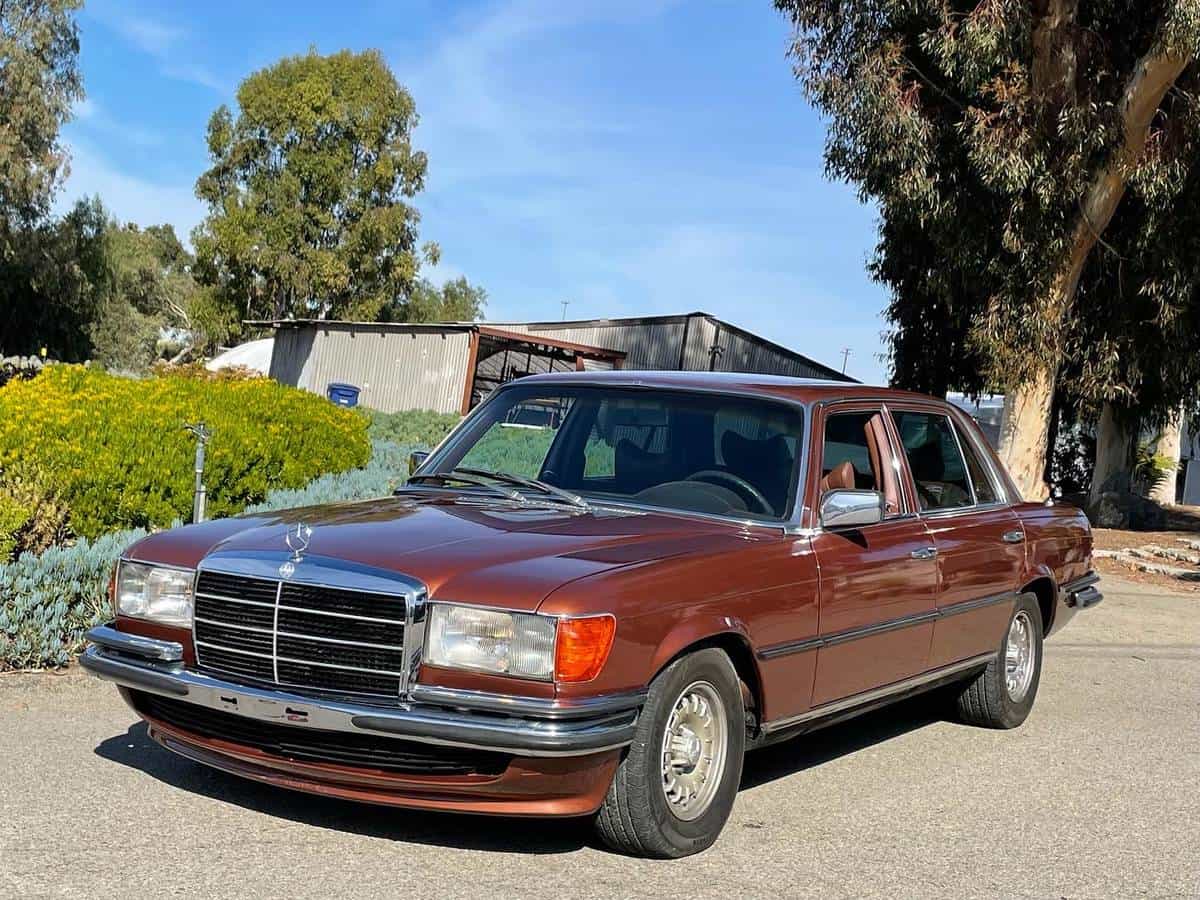 Sponsored Post Contributed by NewOldCars.com, a car finding blog and classifieds.
---
The Mercedes Benz 450SEL W116 generation 6.9 was the fastest, most powerful, and most expensive S Class you could buy in the late '70s. With a $50k MSRP, the only other cars on the market with a higher price tag came from Rolls Royce or Bentley. Euro-spec models, which lack U.S emissions equipment, were rated at 405 lb ft of torque.
Not that the U.S model was any slouch, with 360 lb/ft torque and 250 horsepower. This 4,400 lb sedan could propel itself to 60 MPH in just 7 seconds – for perspective, this was faster than the Ferrari 308 GTS and was nearly on par with the most powerful Corvette in 1979 (6.6 seconds)
Top speed? Nearly 150 MPH
Such a lofty price tag meant these cars were as rare as they were special: only 1,816 were sold in the U.S between 1977 and 1981.
These luxurious behemoths employed many technological upgrades over the standard S Class, most notably the "M100" engine (which, despite the 6.9 designation, is only 6.8L). The engine starts life as the cast iron M100 from the 300SEL 6.3 before having its cylinders enlarged to a substantial 107 mm bore size (4.21") yielding the 6.8L displacement. The crankshaft, connecting rods, and pistons were all forged steel for strength. The aluminum OHC heads use sodium-filled valves, and contemporary hydraulic lifters forgo the need for routine valve lash adjustment.
The Mercedes Benz 450SEL's M100 engine is so large that all 6.9's are forced to use a dry-sump oiling system due to the lack of height under the hood. The system allows for a 12,500 mile oil change interval thanks to a whopping 12.7 quart oil capacity. A large oil capacity means more oil to share the heat (lower oil temperatures) and more oil to share the "wear and tear" of an engine.
The 450SEL 6.9 even features the same Bosch K-Jetronic mechanical fuel injection system that debuted on the Porsche 911 a few years prior. Thankfully, this system was more reliable and required less maintenance than the electronic system found on previous models. It wasn't without faults, but the system was improved numerous times throughout W116 production.
Naturally, this bespoke power plant was hand-assembled at the factory and every single engine was bench-tested for nearly 4.5 hours before installation (40 minutes of which were at full load, non-stop). These engines were built to last, which is why the factory scheduled service for the first 50k miles only calls for oil/filter changes and coolant drain/refills.
Buyers anticipating a world-class ride with the Mercedes Benz 450SEL were delighted to know that Mercedes cut zero corners in this department. There are no conventional springs or shocks on the 6.9. Instead, these cars use a hydro-pneumatic suspension system that was licensed from Citroen, who used it on their CX and DS models. The setup, which is composed of hydraulic struts and pressurized nitrogen tanks, was slightly modified by Mercedes to accommodate the extra weight of the 6.9.
The pressurized nitrogen provides a "cushion" that acts as a spring, while the struts are hydraulically pressurized by an engine-driven pump. Unsurprisingly, such an intricate setup requires routine maintenance, but if maintained correctly, this system is astonishingly durable: the struts have a life span of 10 years/100k miles, and the valves and pressure regulators last between 10-20 years!
The hydraulic self-leveling aspect of the system allows the 6.9 to maintain an exact ride height regardless of road irregularities. Height control valves open and close to allow (or drain) the exact amount of fluid needed to maintain factory ride height.
Engineering the 450SEL's 6.9 was one of the more ambitious and expensive projects undertaken by Mercedes, and this attracted the attention of other companies looking for platforms to develop new, industry-leading technology. Bosch, for example, partnered with Daimler-Benz and used the 6.9 as a test bed to develop the world's first production car ABS system. When the 6.9 received the finished product, it went down in history as the first car to feature ABS.
This was an era of Mercedes Benz that had the aspiration to chase the highest possible standard in the industry. It wasn't just a matter of having the latest and greatest technological features – it was the drive to produce rock solid automobiles with the finest build quality you could find in a mass produced car. The 450SEL 6.9 could only come from such a company!
---
"Industry Insights" is a web series from American Collectors Insurance in conjunction with Andre Clemente, founder of NewOldCars.com. We look forward to sharing Collector related insights, vehicle spotlights, buying tips, & much more. Enjoy!