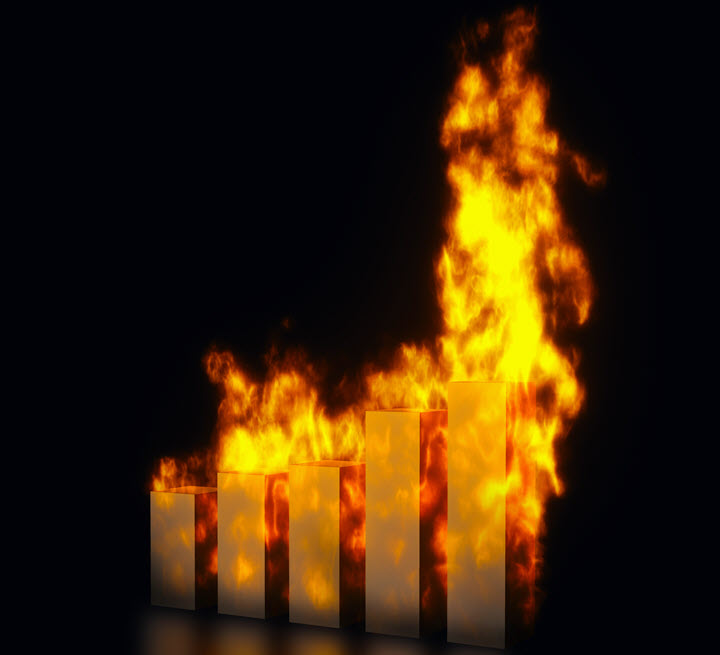 Sponsored Post Contributed by NewOldCars.com, a car finding blog and classifieds.
"Industry Insights" is a new web series from American Collectors Insurance in conjunction with Andre Clemente, founder of NewOldCars.com. We look forward to sharing Collector related insights, vehicle spotlights, buying tips, & much more. Enjoy!
---
How To Approach Modern Collector Car Values In Today's Market
Values of modern collector cars have gone through the roof in the past year. As of August 2021, used sports cars (and trucks) are selling for unheard of prices, sometimes even surpassing that of their new vehicle counterparts. In fact, more new cars (and trucks) are selling over MSRP than ever before.
The market is hot, and unless you've been following it closely for the past few months, it's easy to feel lost.
Forget what you thought your car was worth four months ago – it's irrelevant.
Sure, a car is worth whatever you're willing to pay for it – this isn't an article telling you what to spend on a car. The internet is full of "information" when it comes to pricing cars – the goal of this article is to highlight and explain why some sources are better than others (and which sources to avoid entirely) when pricing out a modern collector car in todays market.
And of course you should resist the temptation of relying solely on other people's asking prices when determining the value of your car. We've all done it before, but the reality is that people can ask whatever they want – it can have little correlation to a car's actual market value.
Maybe the best thing to do is to use one of those credible pricing guides, right? Many will ask "which one is the most accurate?"
Here's the simple answer:
Avoid all pricing guides and pricing tools for modern collector cars. All of them!
Yep. Giving it to you straight. Any "written" pricing guide became outdated shortly after it was published. And as reputable as KBB, NADA, and even Manheim MMR is in this industry, these sources should not be trusted for pricing modern collector cars. It doesn't matter how massive their database is – their algorithms don't appropriately factor in the details that actually matter to enthusiasts.
Providing the year, make, model, mileage, and a "1 thru 4" condition scale is more than adequate for determining the market value of your average Nissan Sentra. But for your 6spd manual BMW, don't even waste your time.
In fact, let's break down all the criteria that online pricing tools fail to properly grasp (or fail to acknowledge entirely):
COLOR:
Certain limited edition or premium colors offered by the factory can add thousands of dollars to a car's value (such as Porsche's "Paint to Sample" or Mercedes "Designo"). Most BMW buyers, for instance, are prepared to pay substantially more for Interlagos Blue than any other blue. Despite this, all online pricing tools simply list generic colors ("red, blue, green, yellow, white" etc.) Not very helpful considering carmakers usually offer more than one version of certain colors – for example, there's the no-cost base white (non-metallic), and then there's the highly desirable $3000 pearlescent crystal tricoat white that sold in very limited numbers. Or how about BMW's $10k "Pure Metal Silver" or Frozen/matte paint schemes? The color options provided by pricing tools like KBB have little correlation to any particular factory color, and there is zero acknowledgement of premium colors.
SPEC:
Spec is just as important as color. Any Porsche in a desirable spec, for example, will bring exponentially more than the rest of the pack. There are also certain option packages that carry more weight than others due to rarity, price, or pure desirability (such as a track pack, an exterior design package, limited slip differential, adjustable suspension, etc). Many people refuse to have their Porsche without SportChrono, and many Mercedes buyers insist on having the AMG sport package. Nearly all Corvette buyers want Ride Control. Good luck finding these options in KBB (Manheim MMR doesn't even acknowledge factory options or packages in its pricing!).
In fact, the generic options list found within these guides is nothing short of laughable. A 6 disc changer adds $200 to the value? Really? There's no checkbox for a limited slip, yet there's a checkbox for "Integrated Phone" that adds how much? It's even worse when it comes to wheel options. Some factory wheels can add $5k or more to the value of a car!
SERVICE HISTORY:
Who wants to buy a car with no service history? Does Manheim MMR or NADA acknowledge if any of their BMW comps had the timing chain guides done? The difference in sale price between an Audi RS6 that had a brake and suspension overhaul vs an RS6 that hasn't is nearly $10k or more. For some, service history is more crucial than any other criteria – and we're not just talking about your run-of-the-mill timing belt/water pump here. This is in regards to a $5,000 suspension or brake system overhaul, for example. Or a $5k-$6k timing chain guide service. How about the $4,800 job to redo all the soft-touch interior buttons that went sticky in your Maserati. And who wants to buy a 911 or Boxster that hasn't had the IMS retrofit done, or a Mercedes that never had its ABC hydraulic suspension serviced or replaced?
The cost to do these jobs is prohibitive. Bottom line, if you're comparing your car to other sold vehicles without weighing in the service history, you're wasting you're time (especially for European cars).
ACCIDENT HISTORY:
An accident on the history report will obviously hurt the value of any car, but for most collector cars, even a small ding on the Carfax report can be enough to push a potential buyer away – especially considering that many of these purchases are made as investments. Also … no one wants a Corvette or a GTR with 7+ owners. Not something Manheim MMR will mention in their comps, is it?
CONDITION:
Condition means everything, yet the amount of inconsistency and vagueness that defines each pricing tool's "condition parameters" renders them pretty useless. For example, KBB's "Very Good Condition" includes cars that "have had minor paint touch-ups and/or bodywork" – depending on where it is, that alone is enough to make most Porsche, Mercedes, and Corvette buyers turn the other way. It's very difficult to put a number on a scratch or paint defect – it's why you can bring the same car to five different body shops and get five different quotes.
Most pricing tools simply group cars into one of 4 groups (Fair, Good, Very Good, Excellent). Again, for your average Honda Accord, this is adequate, but it's not nearly detailed enough to define values for an NSX or Civic Type R. There are enough pristine examples out there that any defects will add much more of a penalty than KBB's algorithm would factor in.
… so if online pricing tools are pointless, what do you rely on if you have no clear idea what a car is worth?
Nail this into your brain:
Any sold listings that allow you to see the car and its options, history, spec, color, service, condition, etc carries more weight and accuracy than any "pricing tool" number or range
But where to do you go to find completed sales that let you see all of this criteria? For one, Ebay's "Sold" listings can be a great start. But an even better source has emerged over the last five years: online collector car auction sites (Bring a Trailer (BAT), Cars and Bids, PCarMarket, etc.) These sites allow you to study and compare all of the above criteria for each individual sale, making it easy to accurately compare your car to other similar, relevant vehicles that have recently sold.
However, the question must be asked … can you really trust those auction prices? And just because a car brings those numbers at auction, who's to say they'll bring that amount anywhere else?
Why Collector Cars Bring More Money on Bring A Trailer
Don't blame it all on over-enthusiastic bidding. The reality is that there is a massive buyer pool for collectors cars on sites like BAT – and we're not just referring to the millions of followers. Online auction sites are fantastic at exposing people to cars they weren't even looking for. That's right – it's never been easier to make your car visible to those who weren't even looking for it. Most people don't realize what they want until it's right in front of them, so thanks to the "daily email", buyers are spontaneously exposed to cars that they never thought of searching for but now have to have.
With sites like Ebay and Craigslist, you have to type in what you're looking for because it would take hours to scroll through all the boring/irrelevant/garbage listings to find that one gem. The same concept is true for FB marketplace, Autotrader, etc – a broad search on any of these sites just isn't feasiable. This generally means that the only people who see your Corvette are the ones searching for a Corvette.
Also, the amount of exposure and activity you get through online auctions nowadays means significantly higher sale prices than what you'll get through your local craigslist or FB Marketplace. To those who say "all cars on BAT are overpriced" because they see similar cars locally going for less is irrelevant because you are comparing two completely different sized markets.
And let's get this out of the way – yes, over-excited bidding exists, and there's always going to be a few anomalies that inexplicably sell for more than the rest (which is why you should disregard the anomalies and always rely on more than one comp).
However, here's why over-enthusiastic bidding isn't nearly as much of an issue across the board as you think:
1. There's a buyers fee (~5%) that buyers have to factor this in when bidding, forcing them to bid slightly lower than their maximum to afford the car.
2. Shipping costs – most buyers aren't local, and this expense has to be factored in as well.
Again, a large chunk of these purchases are made as investments, so both of these expenses work to dampen the severity of manic bid wars (most of the time …)
In reality, the high prices stem from the fact that Bring A Trailer has always been a source for cream-of-the-crop cars, so the site has attracted more cream-of-the-crop buyers (and sellers) than anywhere else in the country (BAT is what happens when you put all these buyers in one place!). You can also tip your hat to the commenters, who are usually quick to callout dishonest sellers. This does wonders for buyer confidence, considering people are fed up with all the BS that comes with Craigslist, FB marketplace, and Ebay, where there's little to no accountability. This makes it hard for people on those sites to pay bonkers prices for a car they don't even know is legitimate.
Keep in mind, however – if you want online auction prices, you need to sell through online auctions. Period. Those ridiculous BAT prices only occur on BAT – a site that usually represents the "ceiling" of the market. Trying to get those prices through your local classifieds is pointless (and laughable).
So what's the point of using online auctions as a pricing guide if you aren't going the auction route?
The point is that these auction sales provide more than just numbers:
1. They allow you to see changing market trends faster than any other source. Period
2. They reveal what people truly look for in a particular car (certain color combo, option package, 6spd, a certain service item(s), etc) as well as how much of a premium they are willing to pay for it.
3. The high sale prices set a legitimate, accurate price ceiling that you can deduct from when determining a price for your car locally. Regardless of how expensive it went for: any comparable sale (similar service/accident history, color, spec, etc) from an auction carries more merit than some online pricing tool in regards to evaluating collector cars. You're better off subtracting from these high (but valid) auction numbers when determining the realistic price of your car locally than it would be to rely solely on KBB or NADA, for example.
Bottom line – online auction sites are a great source of information if you know how to use them properly. And in this day and age, if you own a mint, low mileage "new old car" – auction sites are your best chance at getting top dollar. No question about it!