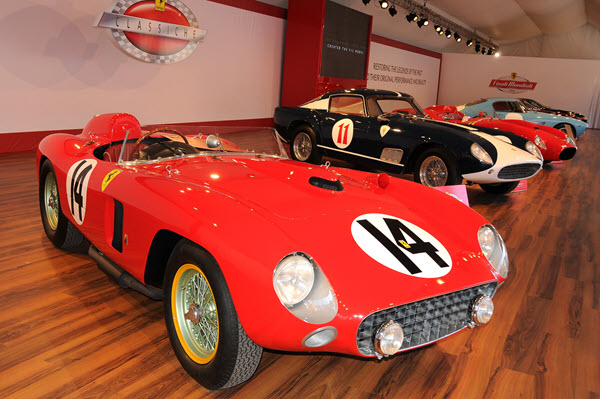 If you're as captivated and intrigued by the world's most impressive classic cars as we are, you're in for a treat. Below, we've listed some of the most expensive vehicles ever sold at auction so you too can relish in envy at these marvels of automotive engineering and design.
The Most Expensive Collector Car Sales
For this article, we did our homework to find the most expensive classic cars that have ever sold at auction. At American Collectors, we've kept a close eye on the collector car market for decades and found a lineup of some of the finest cars by Ferrari, Mercedes-Benz, and Aston Martin.
1963 Ferrari 250 GTO ($70M)
Few vehicles are as legendary as the mighty '63 Ferrari 250 GTO. Arguably the most expensive classic car ever built, only 36 of these vehicles were ever produced. This ride is an undeniable collectible that became the most expensive classic car in the world when it was sold to WeatherTech founder David MacNeil for $70 million in 2018.
This car was once named the "hottest car of all time" by Popular Mechanics magazine—and for a good reason. The '63 Ferrari 250 GTO boasts an incredible Colombo V12 engine and 102 hp per liter of fuel. This car perfectly embodies Ferrari's philosophy of combining style, elegance, and power.
1957 Ferrari 335 S ($35.7M)
This magnificent 1957 Ferrari 335 S features stunning Scagletti coachwork and a 4.1-liter V12. According to MotorTrend, it sold for a reported $35.7 million at auction house Artcurial. For a time, the automobile led the 1957 Le Mans before dropping to fifth due to mechanical errors. On February 5th, 2016, the world's most expensive '57 Ferrari 335 S sold in Paris for a sum north of $30 million.
1964 Ferrari 275 P ($30.1M)
The stunning 1964 Ferrari 275 P won Le Mans on two separate occasions, making it one of the most sought-after cars in the world. Powered by a 3.2-litre V12 engine, the '64 Ferrari 275 P boasts more than 300bhp and weighs only 775kg. The three other vehicles of its kind are held in private collections, making this vehicle one of the rarest and most prized of the Ferrari Scuderia lineup.
1954 Mercedes-Benz W196 Silver Arrow ($29.6M)
This stunning 1954 Mercedes-Benz W196 Silver Arrow was driven by F1 champion Juan Manuel Fangio and sold for a reported $29,650,000 at a Bonham's Auction in 2013. For a vehicle from the fifties, this car was highly innovative as it featured a fuel injection-calibrated motor, a four-stroke engine with a dedicated gas exhaust, and two actuators.
1956 Ferrari 290 MM ($28M)
According to Fortune, This Scuderia Ferrari team car was sold at RM Sotheby's New York in 2015 for $28 million. As one of the most expensive vintage cars, the '56 Ferrari 290 MM is a legendary vehicle that appreciates in value faster than virtually any other collectible car.
1955 Jaguar D-Type ($23.2M)
Sold at RM Sotheby's Monterey auction, the 1955 Jaguar D-Type sold for $23.2 million (inflation adjusted) in 2016. This vehicle had been in the same private collection for over 16 years and has seen only two prior owners, and is the only Le Mans-winning D-Type to survive and remain in its original winning form.
1935 Duesenberg SSJ ($22M)
The most expensive American classic car of all time sold for the highest car auction price in the United States at a whopping total of $22 million. The Duesenberg SSJ driven by actor Gary Cooper sold at auction in Pebble Beach in 2018, and it remains one of only two models of its kind in existence since the Great Depression halted its production run.
1963 Aston Martin DP215 ($21.5M)
Our list of the most expensive classic cars wouldn't be complete without an Aston Martin. The 1963 Aston Martin DP215 is an enthralling vehicle that somehow never ended up being the British automaker's top-selling luxury cars. When a '63 DP215 sold for over $21 million at auction in 2015, it became one of the most valuable classic cars and the most expensive British car ever.
1961 Ferrari 250 GT California Spider ($18.1M)
The '61 Ferrari 250 GT exudes an "old school" look while boasting modern performance. And as if its racing pedigree and performance weren't enough to drive up bids, this '61 250 GT was one of 100 rare antique vehicles reportedly found in a barn in France. While it originally had a very limited production run, the California Spider was notably driven by French entertainers Alain Delon and Gerard Blain in the 1960s.
Protect Your Passion With Industry-Leading Collector Car Insurance
Whether you're driving a '61 California Spyder or a late-model T-Bird, it's crucial that you protect your passion with a comprehensive Agreed Value collector car insurance policy.
At American Collectors Insurance, we have decades of experience helping classic car lovers like you find an insurance policy that safeguards their hobby and provides much-needed peace of mind. Check out our Agreed Value collector car insurance policies and get a free quote today.