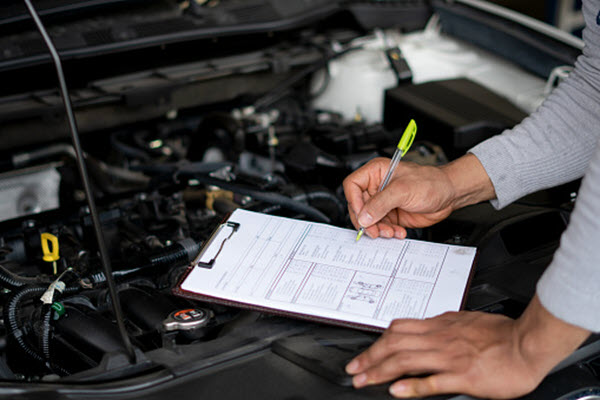 About Pre-Purchase "Road Ready" Inspections
Before you buy a classic car, you should get it inspected by a mechanic. At American Collectors Insurance, we find that far too often drivers settle for a 60-second test drive before deciding whether the vehicle is right for them. That's why we put together this handy guide to pre-purchase inspections to go over what you should examine before buying any collector car.
What Is A Pre-Purchase Inspection?
A pre-purchase inspection is a professional vehicle inspection in which the entire vehicle is thoroughly checked for evidence of mechanical, structural, or cosmetic damage before it's purchased. The licensed mechanic or technician will help determine whether the vehicle is suitable for sale and can potentially save you thousands of dollars by preventing you from buying a damaged car.
A pre-purchase car inspection is an investment that can pay off in the short-term as well. If a mechanic informs you of existing mechanical problems under the hood, you can use those issues to negotiate a better purchasing price from the owner.
More than anything, a classic car pre-purchase inspection offers buyers peace of mind. Unless you're an automotive expert, chances are you might miss something. By receiving a second opinion from an experienced mechanic, you can find out whether the vehicle you're buying is worth its asking price.
Where Can I Get A Pre-Purchase Car Inspection?
You can get an objective, pre-purchase inspection from a neutral party by searching "pre-purchase inspection near me" and sorting through the various reputable (i.e., with many legitimate positive reviews) garages and mechanics.
If you're purchasing the vehicle from a dealership, they will be able to conduct the inspection on the spot. However, a dealership may experience a conflict of interest between providing complete information about the vehicle condition and providing too much information which may endanger the potential sale of the car.
If you're buying a car from a secondhand owner or vendor, take it to a trusted mechanic. Buyers who are unsure how to get a pre-purchase inspection can also order a pre-purchase inspection from the MotorTech Classic Car Network, AAG Auto Appraisal Group, or FossilCars.
What Do Pre-Purchase Inspections Entail?
We're often asked for a used car inspection checklist by classic car buyers who aren't quite sure what to look for when looking over a classic from a private owner. This is an understandable ask. For decades, we at American Collectors have seen first-hand how intimidating it can be for some car lovers to purchase a classic car from private owners or collectors.
The good news is that it doesn't have to be stressful—with a few simple requests sent to the owner, you can buy with confidence knowing that your dream car's fit for purchase.
First, it's important that you request a CARFAX report or a vehicle history report to see whether the classic car you're interested in has been in an accident. If it has, you will know which areas of the car you need to pay close attention to.
Pre-Purchase Inspection Checklist
A pre-purchase "road ready" inspection should check the following:
Body Panels:

Check the exterior of the car by walking around it and noting any scratches, dents, discoloration, rust, or blemishes of any kind.
Look out for gaps between panels looking for evidence of frame damage. Uneven gaps may be indicative of an accident repair.
Assess condition of undercarriage including frame and sub-frames.
Assess condition of under body including floor pans, trunk pan, rocker panels, etc.
Examine for evidence of rust, flood or collision damage
Assess fit, finish and condition of body panels and paint

Condition:

Evaluate condition of door panels, upholstery, carpets, consoles, seats, headliners, dashboards.
Evaluate condition of trim, chrome, stainless steel, plastic, lenses, glass, and emblems
Confirm presence of spare wheel, tools, accessories.

Tires:

Take note of the condition of the tires, whether they are the same brand, or if they are bubbling or cracking on the sidewalls.
Observe tread. There should be at least a one-third inch of tire tread left on classic car tires. If the tread is uneven, there may be a suspension issue.

Engine Compartment/Mechanicals:

Pop the hood and conduct a thorough pre-buy car inspection of the entire under-the-hood compartment.
Check for signs of grease, leaks, coolant, and ensure that fluid levels are normal.
Squeeze hoses to confirm that hoses don't feel too hardened.
Inspection / evaluation of overall condition of engine, drive-train, and brakes.
Assess condition of suspension by noting whether vehicle sits level and bounce corners to identify potential suspension issues
Verify proper operation of mechanical/electrical levers, lights, switches, accessories, and controls
Road test drive (if possible) to identify potential steering, gear shifting, suspension, braking, engine operation, or exhaust system issues

Smell:

Check the interior of the car for a mold or mildew smell. If a classic car hasn't been well looked after, it may show signs of water damage that are easily sniffed out.
Make sure you double-check carpets for evidence of water damage, mildew or mold.
Knowing how to inspect a used car starts by following the checklist above. Before taking the vehicle to a mechanic for a second opinion, learn how to inspect a used car via the above checklist.
What Does A Pre-Purchase Inspection Cost?
A used car pre-purchase inspection costs a few hundred bucks, but can save you big-time in the long-run. However, knowing what to check when buying a used car, conducting your own pre-purchase vehicle inspection, and doing an on-the-spot mobile pre-purchase inspection can save you lots of money by detecting a potential lemon early on.
At American Collectors, we've helped countless car lovers get the protection they need for their pride and joy. As classic car enthusiasts ourselves, we believe that there's no greater delight than driving our passion with peace of mind.
Protect your passion and get classic car insurance today. With decades of experience in the collectors insurance, we have the expertise to find the right policy for you and your vehicle.