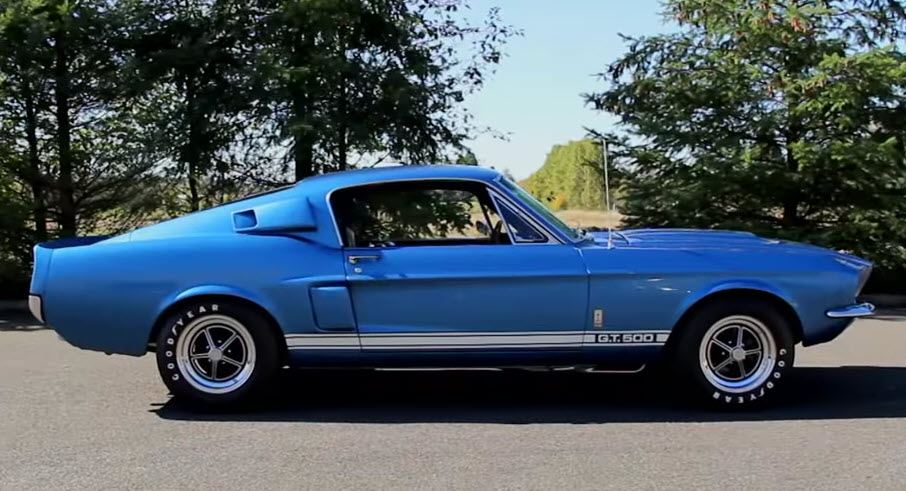 1967 Shelby GT 500 Overview
There are many well-known, extraordinary people in the collector car community. For many, any car enthusiast could recognize their name. These legends are often race car drivers, collectors, or a creator of a car. One collector and creator very familiar to collector car enthusiasts is Carroll Shelby.
Carroll Shelby Racing
Not long after hitting the track to follow his passion for cars and racing, Carroll Shelby became a successful race car driver. With less than 10 years of racing in the books, Shelby developed heart issues and had to call it quits as a driver.
The Shelby Cobra Comes to Life
After retiring from racing, Carroll Shelby continued to make a name for himself in the automotive world by becoming a designer. He began doing this by opening a High-Performance Driving School as well as an autobody shop. In 1962, Shelby imagined the word "Cobra" being placed on the front of his project car. After learning about the end of production for a British organization of AC Cars, Shelby convinced this organization to work with him and his team to develop his vision. After much hard work and dedication, the Shelby Cobra came to life.
1967 Shelby GT 500
The first Shelby model in the GT 500 range was built in 1967. 2,048 GT 500 models were produced in 1967 and along with other Fords at the time, the GT 500 model was reinvented to give the car a more comfortable feel. Although comfort was added to this model, Shelby turned it up a notch by adding a big block engine, which is how it received its name, the Shelby GT 500. The GT 500 model was based on the 1967 Mustang and is dressed with a FE 427 cubic inch 428 Police-interceptor V8 engine. To top things off, it has an aluminum mid-rise intake and 2X4-barrel 600 carburetors which produces 355 bhp. Many body parts of this model were made of fiberglass including the front end, hood, rear tail light panel, deck lid, quarter panel extension, and side scoops.
| | |
| --- | --- |
| GT 350 | GT 500 |
| 289-4V engine | 427 Cubic Inch V8 engine |
| Hood scoop and side scoops | Quarter window scoops, side scoops, and hood scoops |
| Corner carver car | Straight-line car |
| 562 built | 2,048 built |
Muscle Car of the Week
You might be wondering why the number 500 was chosen for the Shelby GT 500. As mentioned in the Muscle Car of the Week video below, Shelby wanted to use a number that was higher than any number ever used before, on any car. For example, a 426 or 427 engine, which led them to 500. The GT 500 model quickly gained respect once hitting the streets. The 1967 Shelby GT 500 had the biggest and highest performance engine installed for that year. While coming up with the car's redesign structure, Shelby knew they had to make the car more appealing and drivable. Adding comfort along with a bigger, more attractive engine, Shelby was bound to deem this model a success.