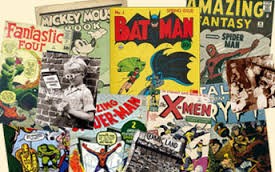 At American Collectors Insurance, we're appreciators of all types of collections. We understand that no matter what the theme, the objects in an individual's collection hold an immense amount of importance, nostalgia and meaning to their owner. We love that kind of passion, which is why we've decided to highlight a few of our favorite collectors' blogs that we feel do an excellent job of portraying their curators' love for the art of collecting, as well as informing a reader, knowledgeable or not, about the objects of their affection.
Collectors Weekly. This enormous, multi-focus website covers a huge number of interests for collectors, ranging from alcohol to Victorian medical illustrations. Great for those just generally interested in the world of antiquities and niche markets, the content here is updated frequently so there's always something new, both on the front page and the specific areas of interest (which include signs, books, records, paper, postcards, toys, games, dolls, music, movies, guitars, instruments and many more). Visitors can both read up on their preferred topic or visit the "Collectibles" section to find an excellent selection of items up for sale, regularly updated to reflect pricing and sold items.
A Passion for Pipes. A "little corner of the internet for those with a passion for pipes," this beautiful website is clearly curated with a love for pipes, tobacco and all the accoutrements that surround the art of smoking. A place for collectors and enthusiasts to discuss their art with visitors from around the world, the website/blog features articles and stories along with photo galleries, links to other sources on the subject and some features only available to members.
The Baseball Collector. An MLB-sponsored blog, run by infamous baseball aficionado Zack Hample, this site chronicles the long-time collector's pursuit of baseballs, which he seeks to personally catch from players on the field at all major U.S. stadiums. So far, he has collected an incredible 8,429 baseballs at 51 major league stadiums in a time span of 25 years. The blog follows the stories of his more memorable catches, along with amusing anecdotes and stories from the road, regarding the trials and tribulations of his baseball-collecting journey and his increasing fame both on and off the field.
CoinsBlog.ws. There are a myriad of interesting, informative coin-and-bullion related blogs online, but as this one is specifically oriented towards collecting, we chose it for this blog. The site features frequent updates regarding coin and money-related events around the world, along with informational blogs and a huge number of guides and informative references for both the well-versed and those who are new to the world of coin-collecting. Visitors can also use the website to find a coin collectors' blog near them.
We hope you've enjoyed this list, and perhaps even found some new reading material…or an inspiration for your next collection. Keep following our blog for more information on the ins-and-outs of the world of collectors' insurance and all things collectible.