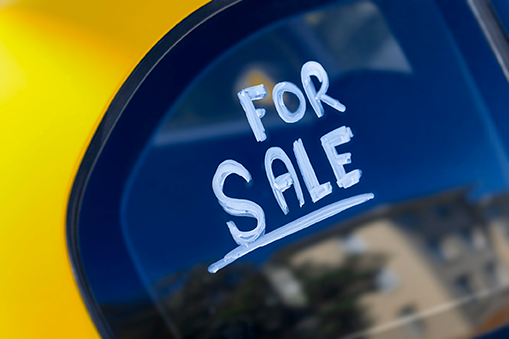 American Collectors has a reputation for making collector insurance easy. We would like to share some tips to help make selling your collector car an easy and lucrative experience for you as well. Below are a few steps that will help guide you through the process.
Step One: Have the car inspected by a mechanic.
Knowing what the car needs mechanically will help you decide which items you may want to address prior to the selling your car. The less the buyer has to invest into your car after the purchase, the more he/she will be willing to give you for the sale.
Step Two: Come up with the right asking price for your car.
There are many factors that determine price: condition, mileage, factory options, market value and number of vehicles produced can all impact the value of a vehicle.
You need to be honest with yourself on the condition of your car. You will find it difficult to get an asking price of a number one show quality car if it's just in fair condition.
Do your homework on the market value of your collector. It's crucial to know what your car (of like, kind and quality) is going for in the market. A good starting point would be to go online and do some quick research. There are many free websites like Conceptcarz.com that will show you what similar cars are selling for at auctions. Also, consider talking to a classic car club. Car clubs can be a great source of knowledge on vehicle history and value.
When coming up with a price you should consider the time frame in which you wish to sell your car. The more time you have to sell your car, the better your chances are of getting what you want for it. Fair warning though, go too high and you run the risk of potential buyers not calling you because it's so far off the price they had in mind. If you're looking for a quick sell you may want to leave out the wiggle room and price your car accordingly.
Step Three: Get the word out!
The formula is simple. The more you get the word out, the better the chances of you selling your car quickly and at a price you will be happy with. Some things to consider:
The fastest way to advertise your collector is to use the Internet. Some websites will charge a monthly fee to advertise your car however, you could use craigslist or connect with people through an online classic car forum for free.
When you're posting an ad on the Internet, make sure you upload a few pictures of the car. Be sure to include both the interior and engine shots too! Cars in mint condition will draw more potential customers. On the flip side, if your collector needs work, this will save you time later after they see your car in person and decide that it needs too much work.
More ways to get the word out:

Post an ad in your local newspaper or bulletin.
Ask friends and family to spread the word for you.
Contact classic car clubs. Members of theses car clubs may be interested in buying the car themselves or know of someone who is in the market.
Other helpful tips:
When it comes to selling a classic car, the more original it is, typically the higher the resale value – especially if you're advertising it as an original. Avoid using aftermarket parts as much as you can. This of course does not apply to Restomods or Street Rods.
Make sure you have the car's title and that it is transferable and correct. Sounds like a no brainer, but this is a critical detail that is sometimes overlooked. You'll be surprised how many sellers find out last minute that they can't locate the title or that the VIN doesn't match. Or the title is marked as a "Salvage" title which will negatively affect the sale.
Put everything you have on the car in a bag such as: extra keys, manuals, receipts of repairs, list of contacts, etc. It's a nice gesture to the buyer, and it demonstrates that you took good care of the car.
And finally, if you had a good experience with American Collectors, refer the buyer to ACI. Showing them that you insured the car with a collector car company like American Collectors demonstrates that your car is truly a collector and not just another old car.
Good luck!