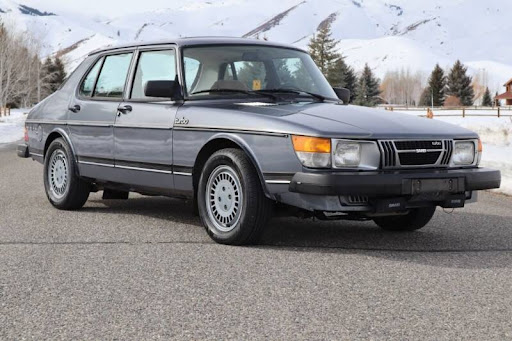 Sponsored Post Contributed by NewOldCars.com, a car finding blog and classifieds.
---
Saab 900 Turbo
Say hello to the Saab 900 Turbo.
When it debuted in 1979, this was the first turbocharged sedan to hit the U.S. market (alright … excluding Oldsmobile's "Jetfire" in the '60s).
It was also one of the fastest 4 door vehicles you could buy. Acceleration from 40 mph to 55 mph occurred in a staggering 3.1 seconds – faster than the same year Corvette (3.2 seconds). The 0-60 time was weak, however (9.3 seconds) as boost was slow to arrive, and it was a difficult car to launch from a standstill according to Motorweek, who cited excessive wheel hop.
But the bigger point trying to be made here is that Saab pioneered the commercialization of turbocharging through the 900 Turbo. During this time period, turbos were almost exclusively used for extracting maximum power from a small engine at high RPM (such as Porsche's 930 Turbo). However, Saab was the first company to take the "small turbo" approach and use it to boost the most usable part of the power band: the mid-range. Rather than pursue peak horsepower, Saab chased peak torque at lower RPMs in an attempt to replicate the thrust of a 6 cylinder with the fuel efficiency and weight savings of a 4 cylinder.
Saab had already invented the modern turbo wastegate with the previous 99 Turbo and was one of the first companies to integrate electronic fuel injection with turbochargers. When it came to the 900 Turbo, Saab took it a step further with the release of APC (Automatic Performance Control) – the industry's first form of electronic knock control. APC enabled the engine to detect early signs of knock and adjust boost pressure accordingly (changing the dynamic compression ratio). Knock, or "pre-ignition" can occur from things like too low of an octane, low quality gas, the presence of carbon deposits, high operating temperatures, poor tuning from lack of maintenance, etc.
This meant that, for the first time, buyers could fill the tank with any pump octane of their choice, and the engine would adjust to it. This was the first big advancement in computerized knock control, and it allowed Saab's turbo engines to run higher compression ratios. Prior to APC, compression was a mere 7.2:1. After APC, compression could be safely raised to 8.5:1. Even Porsche's 911 Turbo could only manage 7:1. And it's not like the Saab fell flat on its face when running 87 octane – even on regular gas, the Turbo still produces 160 ft-lbs of torque.
Now, the name "Saab" is an acronym for Svenska Aeroplar Aktiebolaget ("Swedish Airplane Company"). While no part of the car is "Born from Jets", the cockpit design is influenced by the needs of a pilot: maximum visibility with easy to read gauges. At a time when most automotive dashboards were flat and square, the 900's dashboard is asymmetrically curved toward the driver, allowing access to all controls without having to lean. All displays are non-reflective, and Saab insists on analog gauges with bright pointers, as it's much easier to see changes from a moving pointer than on a digital display. A deeply curved windshield moves the A-pillars behind the driver's field of view, reducing blind spots compared to the typically flat windshield found on competitors.
Further increasing outward visibility is a low front hood line – one of the lowest hood lines of any sedan on the market. Saab engineers achieved this by tilting the engine at a 45-degree angle, which lowers the installed height of the engine. This reduces the frontal area, improving aero and fuel economy, and is a signature design trait of the 900.
If you are in the market for one, take note: 1983 is the first year of Automatic Performance Control (APC), which allows compression to increase from 7.2:1 to 8.5:1. HP stays the same, but torque is increased to 172 ft lbs on 92 octane. 1984 is the first year of the DOHC intercooled 16 valve engine producing 160hp (vs 135hp of previous models). These 16v models received their own name (900T16S) in 1985.
However, chances are you'll have to wait a long time to find the right example if you're picky. Production numbers were low, and there was no collectability associated with these cars until recently. It's a shame, because this is one of the most important cars of the '70s!
---
"Industry Insights" is a web series from American Collectors Insurance in conjunction with Andre Clemente, founder of NewOldCars.com. We look forward to sharing Collector related insights, vehicle spotlights, buying tips, & much more. Enjoy!