1961 BMW Isetta 300, Source: Wikimedia Commons
Unique classic cars are always a treat to see at shows, on the road, or in your own garage. While there are plenty of well-maintained daily drivers, some classics you just don't see very often. Whether they're quirky, feats of engineering that pushed the envelope before their time, or just downright rare, we love seeing these unique classic cars every opportunity we get.
What Makes a Classic Car Unique?
There are plenty of classic cars on the road, each one special, but some unique old cars are harder to find. When you do see one of these unusual classic cars, you can't help but stop to take a closer look. There are a few reasons these end up being little-seen rarities:
Innovation – Leaps in engineering that advance the industry don't come along every day. These game-changers are a piece of automotive history.
Development Dead Ends – Not every new idea pays off. While some of these missteps gain a loyal following, these innovations failed to stick.
Limited Production – Some vehicle editions were always meant to be made in small numbers. Surviving examples are some of the most unique classic cars on the road.
Fewer Left On The Road – Some cars are popular, but see a lot of attrition over the years as vehicles become damaged or parted out. This can leave a formerly common favorite somewhat of a rarity.
8 Unique Classic Cars
1963 Corvette Stingray
1963 Chevy Corvette Stingray, Source: Unsplash
Let's face it, we could fill a list with Corvette Stingrays and cover some major performance innovations Chevrolet has rolled out over the years, but the '63 made a dramatic impact that is still echoed in the most recent models from this iconic line. While lighter and possessing better handling than previous iterations, the look of the 1963 Corvette Stingray is what left predecessors in the dust. The most collectible '63 Corvette Stingray has a rear split window (as seen in the model pictured above) placed above the teardrop coupe roof. Yet, while the car has since become an icon of automotive design, drivers weren't exactly fans of the iconic split, which was directly in their line of sight when looking back. This design detail made it difficult to back up safely and so many owners replaced the split-window with a single rear window. So, based on complaints from customers and concerns from executives and engineers, the split window was scrapped for Corvette models after 1963.
BMW Isetta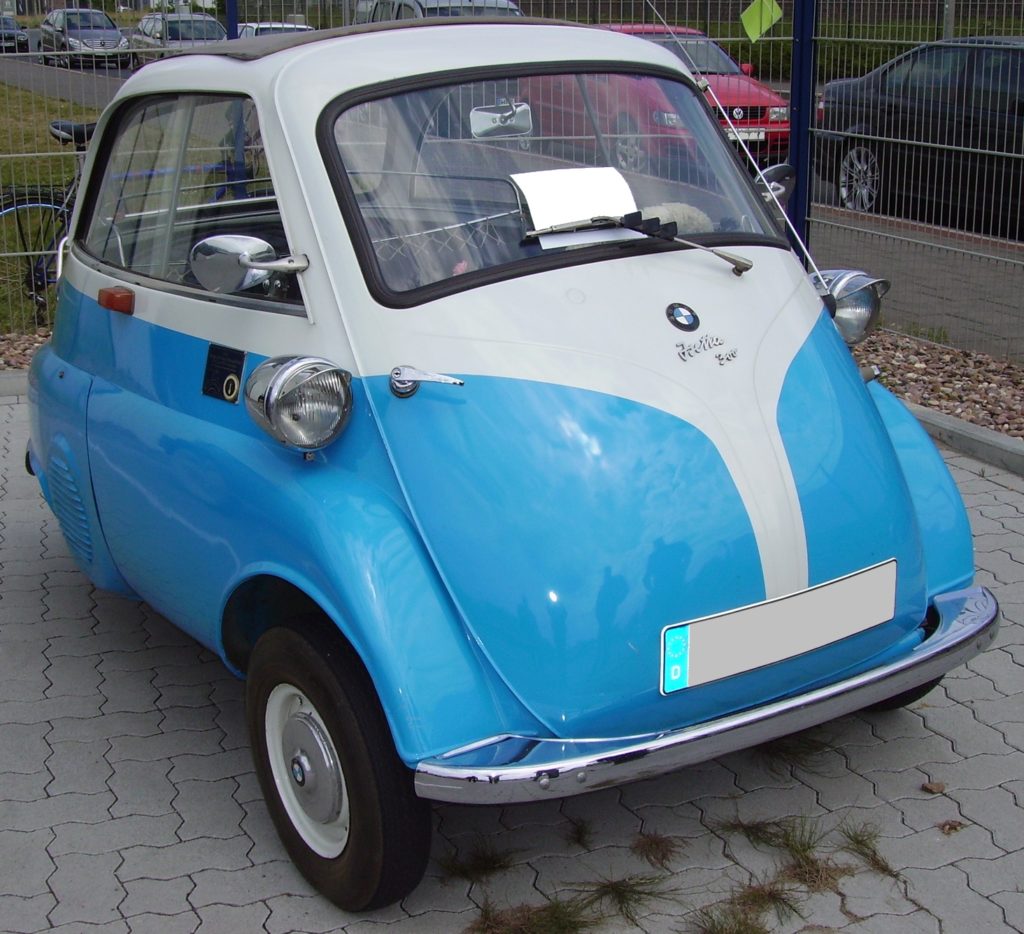 1958 BMW Isetta, Source: Wikimedia Commons
Following up on one iconic look with another, the Isetta was a quirky looking model licensed from the original Iso Isetta then re-engineered by BMW. Most of these imported cars feature a single door that opens the front of the car for a driver and passenger to enter the vehicle. Known as a "bubble car" for its rounded design and bubble-like windows, it offered unheard of gas mileage, in both a familiar 4-wheeled form and a 3-wheeled model meant to take advantage of the UK's lower taxes on motorcycles.
1969 Dodge Charger
1969 Dodge Charger, Source: Wikimedia Commons
It may not be as recognizable as the Mustangs it competed against in its heyday, but the charger helped cement MOPAR performance as a force to be reckoned with. Unabashedly American in styling, this fastback coupe owned the track and dirt roads. We don't suggest sliding across its hood like those Duke boys, however much you've customized the car.
AMC Pacer X Levi's Edition
Interior shot of a 1974 AMC Gremlin outfitted in Levi's blue denim seats., Source: Wikimedia Commons
Sold from 1973 to 1978, this car may seem out of place in a round-up of unique classic cars at first glance. The Pacer was an incredibly popular vehicle in the 1970s, and while they're disappearing from the road, they aren't exactly unusual. As you slide into the rich denim seats, stitched in orange and accented with copper rivets, much like the classic American blue jeans it takes its name from, its quirkiness becomes all too clear.
Volkswagen Samba
1954 Volkswagen Samba T1 Bus, Source: Wikimedia Commons
Also known as the Skyroof Deluxe and a host of other names depending on the country you're in, the Samba was the quintessential utility vehicle of the 60s and 70s. While they were fairly common at the time, collectors today scour collector's marketplaces and specialty dealerships for the coveted 21 and 23-window designs (like the Samba pictured above.) The 21 and 23-window distinctions come from the models' panoramic windows along the roofline. Featuring a blunt, boxy design, it gained a huge following and offered a wide range of body styles. While they're still popular on the secondary market, fewer and fewer are to be found every year.
Fiat Jolly
A doorless 1961 Fiat Jolly with its signature wicker seats., Source: Wikimedia Commons
While the Jolly is ostensibly a Fiat, this 1958 model was actually a conversion undertaken by Italian auto design company Ghia, a firm well-regarded among unique car collectors for its other iconic high-concept designs for Alfa Romeo and Volkswagen. The Jolly was intended to be used as a sunny pleasure cruiser, and not necessarily as a utilitarian people mover like the standard Fiat 600s which were ubiquitous across European city streets. Instead, the Jolly started at a price tag roughly twice that of the standard 600. Ghia also outfitted the cars with their distinctive wicker seats and door-free frames enabling passengers to slide in and out with ease. Today, only a few Fiat / Ghia Jolly models remain, making them one of the most unusual and unique collector cars.
Porsche 914
1974 Porsche 914 convertible, Source: Wikimedia Commons
The 914 was produced between 1969 and 1976 as a joint venture between Porsche and Volkswagen. In the late 1960's, both Porsche and Volkswagen were in the market for new replacement models: Porsche was seeking to replace its entry-priced 912 while Volkswagen wanted a replacement for the Carmen Ghia. The resulting model was a dual venture between two German automakers. Available in four and six-cylinder engines, the 914 was distinctive for its low profile, Targa top, and raised headlights which could be lowered during the day to be flush with the hood.
1970 Datsun 240Z
1970 Datsun 240Z configured for righthand driving., Source: Wikimedia Commons
With similar styling to popular European sports cars, this predecessor to the Nissan 240ZX, one of the most popular imports on the road, showed that Japanese sports cars could be slick, sophisticated, and move. It looked good, performed well, and quickly became a favorite of car tuning enthusiasts coast to coast.
1969 Chevrolet Camaro Z28
1969 Camaro, Source: Wikimedia Commons
The other Chevy muscle cars more than held its own against its counterpart. American muscle cars of the era are instantly recognizable, with fast looks and faster track times. Street or stock, this testament to our love of big engines and big sounds helped make street/strip cars part of our pop culture.
1969-70 Ford Boss 429 Mustang
Ford Boss 429 Mustang, Source: Wikimedia Commons
Not to be outdone by Dodge or Chevy, Ford upped their game with this monster Mustang muscle. Built to counter Chrysler's 426 Hemi on stock car tracks, the 7.0-liter engine was too large for the standard Mustang engine compartment, forcing alterations unique to these classic cars. The result was a car that put 375 horses on the ground, straight from the factory.
Protect Your Unique Classic Cars
A Bluebook value doesn't capture the time, money, or passion you've put into your vehicle. Unique old cars need coverage beyond one-size fits all policies. They need protection tailored to how you collect and drive, with an agreed value that protects your investment if the need arises. Talk to one of our collector specialists who share your passion for classic cars to get a free quote built around your needs. If you have a unique classic car, we want to know about it. Tell us about the trendsetting, industry-advancing, head-turning cars in your garage below.