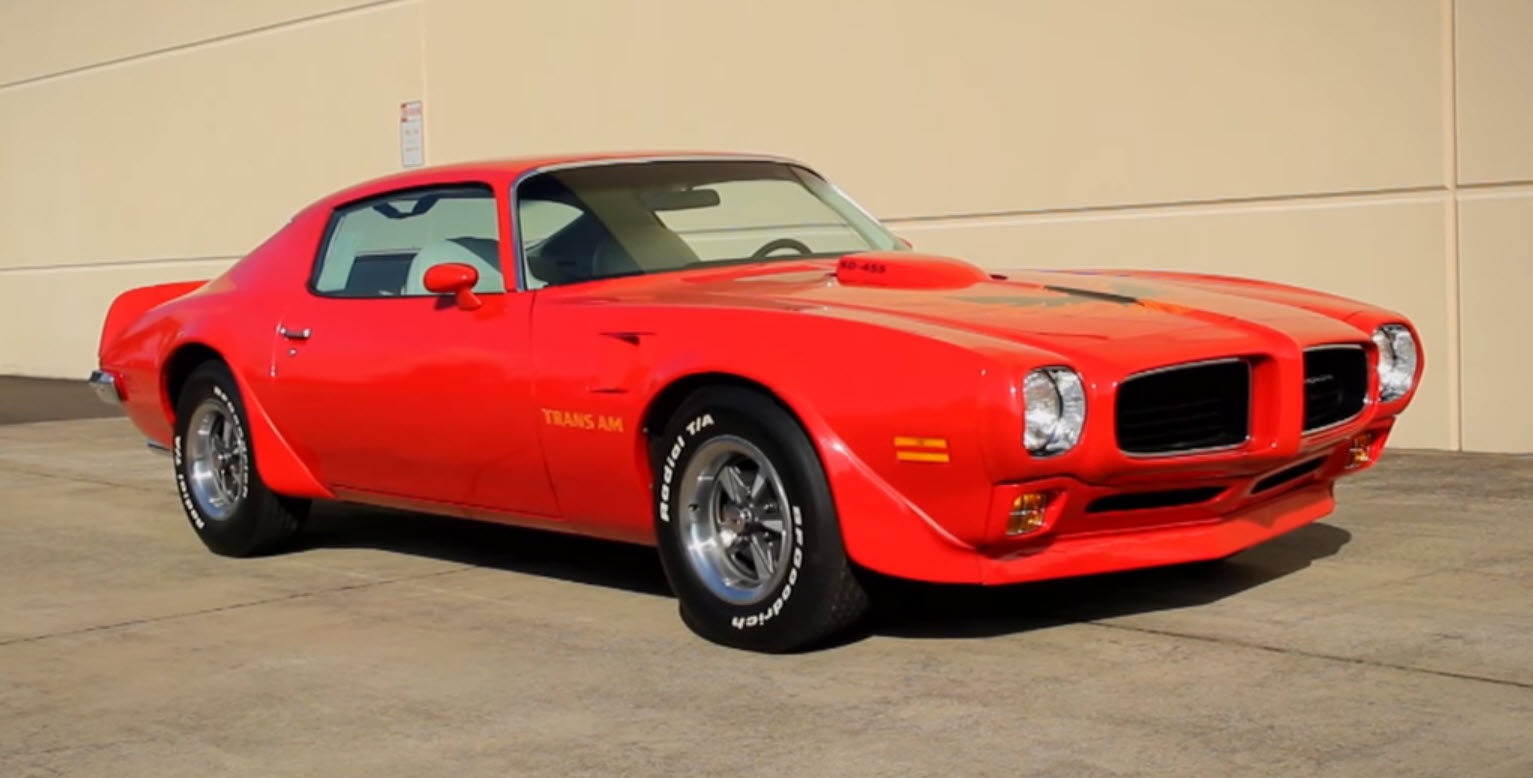 The Pontiac Firebird was an American automobile built from 1967 to 2002. The first-generation Pontiac Firebird, produced from 1967-1969, had a body style referred to as the "Coke bottle style" which was shared with the Firebird's cousin, the Chevrolet Camaro. The second generation of Pontiac Firebirds was from 1970-1981. This generation received a new body style that was more "swoopy" as opposed to the "Coke bottle" style of the first-generation Firebirds.
1973 Pontiac Trans Am SD 455
In 1973 and 1974, the 455 was offered as a special version called the Super Duty 455 (SD-455). This model was unique because it consisted of a strengthened cylinder block including four-bolt main bearings along with added material in different locations for additional strength. A forged crankshaft was in the original plans of the 1973 model, however the actual production SD455s were given nodular iron crankshafts along with some minor enhancements. The 480737 code cam was fitted in to "pre-production" test cars as it was specified for the SD455. However, this is not what the actual production cars were fitted for. They were fitted with 493323 cam and 1.5:1 rocker ratios. Along with a different cam, the "pre-production" cars had a functional hood scoop while the actual production cars did not. Skip McCully, former special project engineer for Pontiac, stated that no production SD455s released to the public were fitted with the 480737 cam. McCully explained that he would have liked to see, "Compression, camshaft, jetting, and vacuum advance. Along with, a compression ratio of 10.25:1, a camshaft, with 041 valve timing, slightly richer carburetor jetting, and as much vacuum advance the engine could tolerate." Too bad that seemed to be impossible due to emissions regulations during that era.
Muscle Car of The Week
By 1973, insurance rates on muscle cars had gone up making automakers not want to produce them anymore. Muscle cars were known as gas guzzlers, also making them harder to afford. All that aside, Pontiac still decided to create the Trans Am for 1973. Against all odds, this muscle car turned out to be extremely popular. The SD (Super Duty) engine gave Pontiac the ability to create some work arounds making this a more desirable car for its time. It became known as "the fastest Pontiac ever". The Super Duty 455 engine was based on the existing 455 V8 so it wasn't considered a new engine design. With that being said, the Super Duty only had to pass the emissions test after a 4,000-mile break in period and did not have to go the full 50,000 miles. Pontiac also did not have to invest in the lab testing programs for the Super Duty, which was expensive. The reason for this was, the EPA already had the standard 455 info on file, allowing it to make it through without testing.
Collector Status
A 1973 Pontiac Trans Am is rare to find as it was a low production year for this car. Only about 4,800 total models were made. 252 of them were the Super Duty models. As mentioned earlier, by 1973 the muscle cars weren't being made by other manufactures for several different reasons. With all these factors in mind, this car is truly something special.
| | |
| --- | --- |
| Model | Number Produced |
| 2-door base 6 & 8 cylinder | 14,096 |
| 2-door Esprit 8-cylinder | 17,249 |
| 2-door Formula 8-cylinder | 10,123 |
| 2-door Formula SD 455 8-cylinder | 43 |
| 2-door Trans Am 8-cylinder | 4,550 |
| 2-door Trans Am SD 455 8-cylinder | 252 |
(This graph shows the number of Pontiacs produced for each 1973 model)