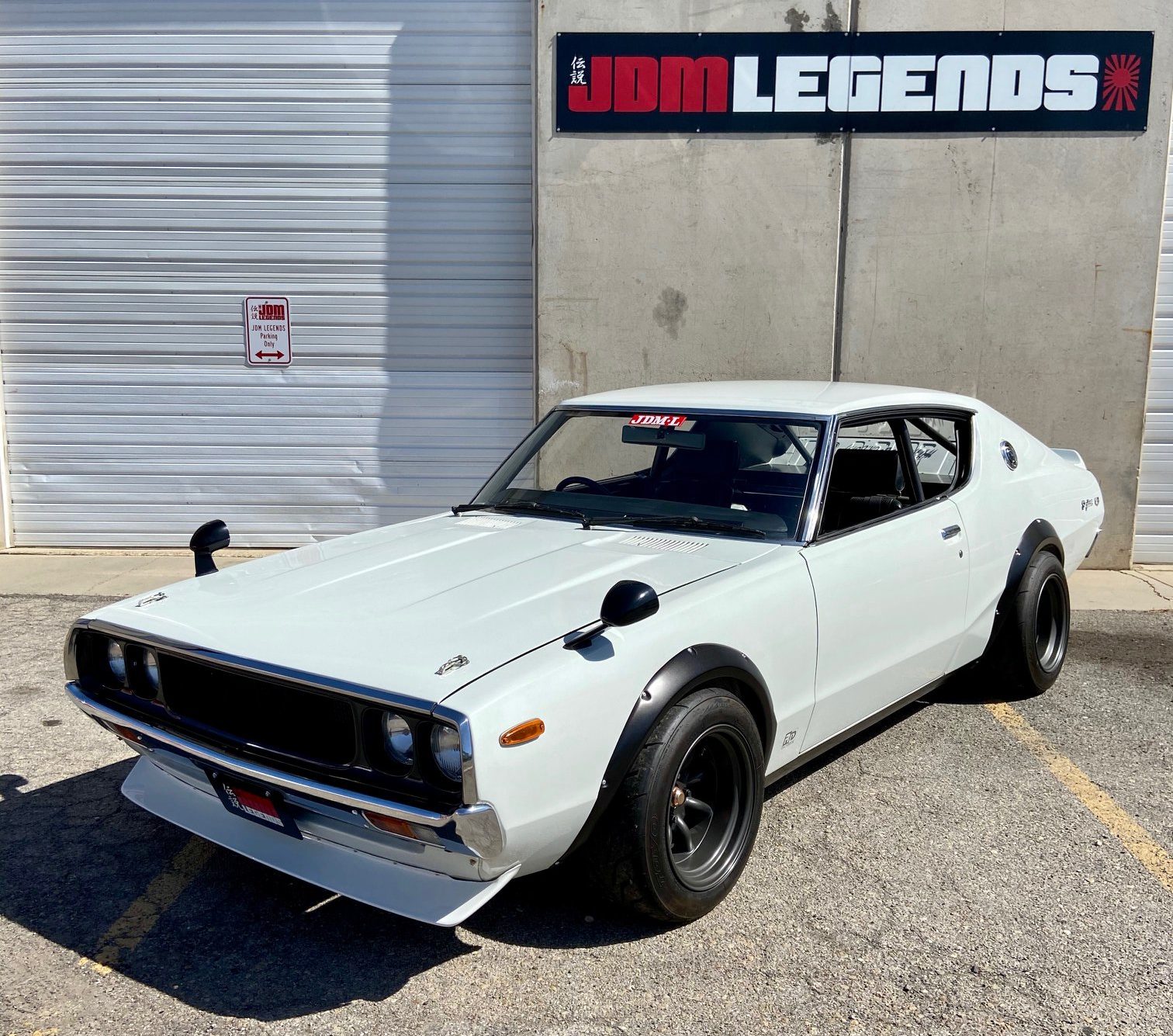 While the 1990's Nissan Skyline and 2000's era GTR have been gaining fame in the modern car scene for a few years now, we thought we would take a look at one of the predecessors and see what makes the Skyline lineage so influential.
We recently met up with Eric Bizek, owner and operator of JDM Legends in Salt Lake City, Utah. JDM Legends is famous not only for their world class builds and restorations, but also because of their television show, which bears the same name.
One of the most popular customer requests is usually for the 'Hakosuka' Skyline GT-R which spanned from 1968 to 1972. As people are becoming more and more aware of these legends, people now began to seek out other Nissan Skylines to see what else they could offer.
Enter the 'Kenmeri' Skyline, the car that spanned 1972-1977. The moniker comes from the adverts that used to play in Japan throughout the 1970's. In these ads, a young and active couple by the name of Ken and Mary take their 70's era Skyline out and about for several adventures. When you put the Japanese written characters into Romanized lettering, it gets spelled Ken and Meri, hence the resulting nickname becoming Kenmeri.
This car is getting increasingly more notoriety and developing a following of its own. While this generation kept the robust and spirited performance, the exterior design changed drastically. "There is an entire generation of muscle car fans that typically would never touch a Japanese car because of the econo-box status. A car like this gets a lot of second looks and appreciation from a lot of petrol heads" says Bizek, "It's a shame a Skyline like this didn't come out in the states to help bridge the gap."
While people are lining up to get a sneak peak, some even with their wallets ready, Bizek cautions that a tribute build may be a better route to go. One of the main reasons for this is that Nissan sold only 197 actual GT-R versions before the oil crisis hit, instantly halting production of the coveted badge. This puts a numbers matching true GT-R 'Kenmeri' Skyline almost to the mid 6 figures range and therefore, less attainable.
If you want to truly enjoy the platform, Bizek recommends going with a less expensive GT 2000 model and adding the performance that suit you best into the build.
That is exactly what happened with the customer build featured here in this video. Join us as we look at this 'Kenmeri' Skyline, a very collectable Japanese car. Eric talks us through the build and gives us a history lesson on this generation of Skyline. He also shares several pro tips that can help you in your collector car journey.